Have you ever wondered what it's like to be an Olympian? Standing on that podium for a full 10 minutes with everything you have worked for flashing before your eyes? Steve Mesler knows exactly how this feels. After meeting with Mesler, you can tell he'll remember the event forever. He offers vivid details as if it had happened yesterday.
Steve Mesler won the gold medal at the Four-Man Bobsleigh Competition during the Vancouver 2010 Olympics. Mesler stood as the right-hand push athlete for Team USA. Although he calls the United States home, Canada is very close to his heart. He lived in Calgary for all of 11 years, has an undeniable 'thing' for Vancouver, and is currently very active in Canada by helping children from all around the country set goals and get involved in their community with the Classroom Champions Foundation.
So how does it feel? Even after four years, Mesler says he still has trouble explaining 'it'. The best way is with an analogy – remember how you felt during Christmas when you were a kid? He describes receiving the medal as Christmas, Hanukkah and a birthday, crammed into one very short 10 minute period. He remembers how much pressure the athletes are put through: It  feels like you're holding an entire country on your back. Once the athletes finish their course, they exit through the media area which is why we often see very raw emotions broadcast on TV. What you see on there is literally seconds after their performance. Mesler shared that he always takes into consideration the athletes go through a lot, and the bulk of what just happened is unknown by the public. He confesses that one of the main thoughts he had, in an extreme focus at the top of the course, was his team had not won gold in 62 years in his category.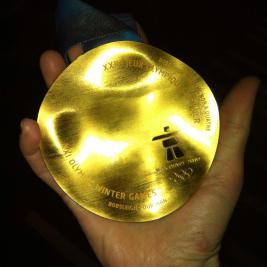 Now, Mesler says it feels more like Christmas as an adult. We all love giving gifts, seeing the look on people's faces. He now dedicates his time to giving back to the community with Classroom Champions, inspiring children from kindergarten to 8th grade to set goals, to get involved in community services and have a fair-play mindset, and also spends time as a TED-Ed Educator and Speaker.
*Marie Michelle P.