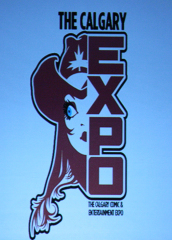 With an estimated 60,000 in attendance at the Calgary Comic and Entertainment Expo between April 26 and 28, fans were excited to attend a variety of thrilling panels, photo ops, autograph sessions, and a market featuring almost every bit of movie, television, and comic memorabilia you can think of.
The panels offered fans an opportunity to chat (as much as one can in a crowd of 10,000) with stars including Carrie Fisher, Peter Dinklage, Lena Headey, Stan Lee and Gillian Anderson, just to name a few. Our team was lucky enough to be able to go to a handful of the panels over the weekend. Here are some highlights!
Carrie Fisher:
Although she'll forever be known as Princess Leia in from Star Wars, 56-year-old Carrie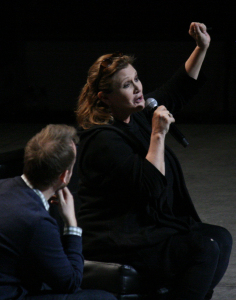 Fisher now makes a living as a screenwriter, novelist and lecturer, and is an outspoken advocate for mental health.
Fisher made no bones about her own struggle with bipolar disorder.
"It takes a lot of balls to be mentally ill," she said. "It takes a certain kind of heroism. I only have bipolar, I don't even think that's one of the ones that requires the most chutzpah."
The former heroine of Star Wars reminisced about her favourite moments in the saga, with special focus on getting the opportunity to slay Jabba The Hut.
"You know, they ridiculously asked me if I wanted a stunt double to kill [him]," Fisher said with a laugh. "Can you imagine? I got to saw that neck off. It was really, really fun and one of the highlights of my career."
On the topic of Disney's recent purchase of Lucas Films, she half-joked that she hoped it would help her get to the front of the line at Disneyworld.
While it has been confirmed that Fisher will be reprising her role in the upcoming Star Wars movie, no details have been released as to what can be expected beyond this.
The X Files: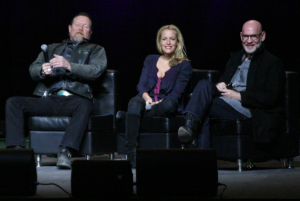 The panel for The X Files featured Robert Patrick (John Doggett), Gillian Anderson (Dana Scully), and Mitch Pileggi (Walter Skinner).
Agent Scully's legacy of being a strong, female role model is what 44-year-old Anderson said she is most proud of. At only 5'3", she had to stand on an apple box to shoot many scenes in the sci-fi series.
Patrick started his career as T-1000 in Terminator 2 in 1991, and said he was typecast for about a year and a half afterwards, stating that he had to completely change his looks in order to land a different (non-android) role. Now 54, has since been featured in Last Resort, True Blood, and The Men Who Stare at Goats, among other titles.
After his role as Skinner, Pileggi, now 60, has moved on to titles such as Grey's Anatomy, and Sons of Anarchy, and has now been signed to continue his role in the third season of the remake of Dallas.
The trio ended their panel by auctioning off a signed X Files script for $800 and a kiss from Anderson.
Game of Thrones:
Featuring Peter Dinklage (Tyrion Lannister) and Lena Headey (Cersei Lannister) of the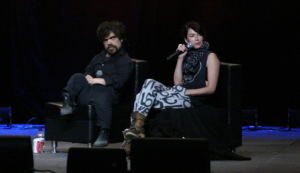 novel-triology-turned-hit-series, the Game of Thrones panel was packed with diehard fans.
Headey, who reprised the role of Sarah Connors in Terminator: The Sarah Connor Chronicles recently had the chance to meet the original.
"How can you not love Linda Hamilton?" said the 39-year-old actress when asked about the experience.
Headey spoke lovingly of the rest of the cast of Game of Thrones, referring to them as "this crazy, joyous, dysfunctional big family."
When asked whether they were surprised by the widespread success of the series, Dinklage, 43, stated that he really wasn't.
"I enter into everything I do with the idea that it will be a phenomenon," he said.
It has been confirmed that Dinklage will be featured in the upcoming X-Men: Days of Future Past, yet his exact role has yet to be announced by director Bryan Singer.
Walking Dead: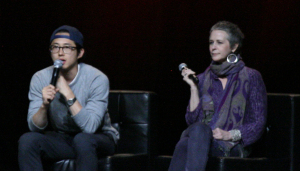 Despite a last-minute change in the lineup removing Norman Reedus, fans were beyond thrilled to have a chance to hear from Steven Yeun (Glenn Rhee) and Melissa McBride (Carol Peletier) about the hit series The Walking Dead.
"We all knew we were working on something really special," said 47-year-old former commercial casting director McBride.
Playing a survivor of more than just the zombie apocalypse, McBride turned briefly serious to discuss the impact that domestic abuse has, and is happy to have seen the growth of the character.
"It was very important to me to see [Carol] live long enough to become strong."
When speaking about his character, Glenn, Yeun described him as a "hard-headed kid with a lot of gumption."
Although sometimes a point of contention among fans, Yeun stated that he was a huge fan of the plot differences between the comics and the series.
Stay tuned for an article about Canadian actress Lexa Doig.