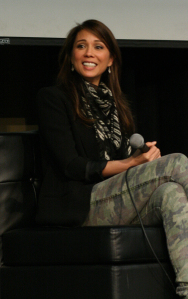 After playing the roles of a warship, a terrorist, a chief medical officer, an alien, and more, Lexa Doig has become one of Canada's best known actresses in the science fiction genre.
Toronto-born Doig splits her time between her hometown and Vancouver in order to film Showcase's hit series Continuum, and CBC's Arctic Air. Doig has also been in Andromeda as the series' namesake, and Stargate SG-1 where she met her future husband, Michael Shanks.
Although she enjoys the occasional chance to jump between science fiction and contemporary dramas such as Arctic Air, Doig's passion lies in sci-fi.
"I happen to love sci-fi because you get to tell these amazing stories, and you get to do cool stuff like fire lasers, and be on wires, and wear funky costumes that you would never wear in real life, "she said with a chuckle.
The demand presented by many characters featured in the genre is also a draw to the 39-year-old actress.
"I remember looking at Andromeda and I'm like 'okay, she's a warship… oh boy.' It's quite challenging in that respect."
According to Doig, the same can be said for her current role as Sonya Valentine on Continuum. The character is a member of a terrorist group known as "Liber8."
"[T]his is a character who has committed some pretty heinous crimes by my estimation, and yet by her they're completely justified."
Doig got her start in entertainment as co-host of YTV's Video & Arcade Top 10 in 1991, and shortly afterwards landed a role on William Shatner's TekWar.
The audition process normally includes the hopeful candidate, a camera, and an off-stage reader for the other parts, but at the tender age of 19, Doig was surprised to find herself in front of Shatner with no one to read the other roles.
"I literally just read my dialogue with big, long spaces of silence in-between," Doig said. "I fully thought I blew the audition, so when I got the part, I was shocked."
In regards to the second season of Continuum, Doig said she is excited for what's coming up for her character, and the show in general.
"Stay tuned… It's quite a ride, and there are quite a few mind-bending kind of moments."
Continuum is on Showcase (521 Classic/163 Advanced, or in HD on 277 Classic/341 Advanced) every Sunday at 9 p.m. ET.