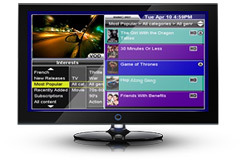 As you may have heard, we've recently launched our new Shaw Direct On Demand service! This is an expansion of our Shaw Direct Online Video On Demand, and allows you to watch your favourite series and great movies direct from your receiver; in fact, we now are offering more than 3,000 titles ranging from $0.99 to $6.99 for regular content (and lots of free content, too), with plenty more on the way. We're also the first satellite provider in Canada to use adaptive streaming technology.
You might be wondering why the use of adaptive streaming is a good thing. You might also be wondering what "adaptive streaming" is.
Adaptive steaming is a process that automatically adjusts the quality of video that you are receiving ("streaming") based on how much bandwidth you have available at any given time, and the speed of Internet that you are receiving. So, if you have one person in your home playing an online game, and another downloading music, your receiver will automatically stream a slightly lower quality of video; this ensures that you won't ever have to wait for your movie to buffer. If one of the other online activities ends, then the movie will seamlessly start streaming a higher quality. The same goes for the opposite; if someone else in your home hops online and your available bandwidth is reduced, the switch to a slightly lower quality video will be completely seamless. No buffering, no waiting. Pretty cool, right?
In order to access Shaw Direct On Demand, you just need to make sure you've taken care of a few things. First, you'll need one of our newest line of receivers: the HDDSR 600, HDDSR 605, or the HDPVR 630. If you don't have one, talk to us about your options for getting one.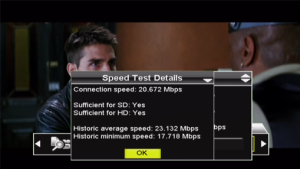 Next, you'll need to make sure that you've got a high-speed Internet connection to your receiver. In order to access Shaw Direct On Demand, you'll need to subscribe to an Internet package that offers a minimum speed of 5.0 Mbps; your receiver must be able to connect to the Shaw Direct On Demand servers at a minimum speed of 1.75 Mbps for standard definition, and 5.0 Mbps is the minimum speed for high definition (remember that during peak Internet usage times, you might not be getting the full speed possible for your Internet service). Not sure what your Internet speed is? You can test it on your receiver. You can find instructions on how to do this here.
If you don't have a router close enough to your receiver, fret not; a powerline bridge will solve the problem.  A powerline bridge is a device that allows you to turn a power outlet into an extension of your router. Simply plug one half into your router and a power outlet, and the other half into another power outlet and your receiver, and you're ready to go. If you are interested in more information, feel free to ask us.
Lastly, make sure you've registered for a Shaw Direct Self Serve account. If you haven't registered yet, you can do so here. This will also give you access to some handy features like changing your programming online, refreshing your receivers, making a payment, and tons more.
If you want some additional information about Shaw Direct On Demand, you can check out the FAQ, connection how-to, and assistance with any issues.
Question of the Week:
What are you excited about getting to watch on Shaw Direct On Demand?
*rg