If you've been curious about Shaw Direct On Demand, but aren't able to connect your receiver to the Internet because it's too far away from your router, we're excited to let you know about the ReadyNet Powerline Bridge!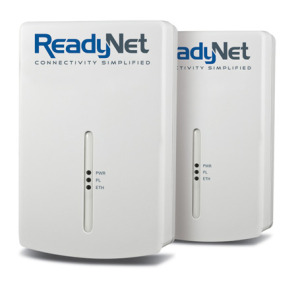 The ReadyNet Powerline Bridge allows you to convert any electrical outlet in your home into an Internet connection. Each kit comes with two adapters, two Ethernet cables, and an installation CD. Simply connect one adapter to your home router and a power outlet, and then connect the other adapter to your 600-series receiver and a nearby power outlet. As soon as this is completed, you can explore the vast Shaw Direct On Demand library and enjoy your favourite titles!
Once the first bridge is installed, the router connection will be established; if you need more than one additional Internet connection, you can just get a second ReadyNet kit for another two connections. The ReadyNet Powerline bridge sells for $49.99 (taxes extra), and as an added bonus, you get a coupon for eight free regular Shaw Direct On Demand titles just for connecting your receiver to Shaw Direct On Demand (to a maximum value of $7.99 each).
The bridge creates an Internet signal that will pass through your home's circuit breaker without any issues, can support a bandwidth of up to 200 Mbps, and offers 128-bit AES encryption to ensure the security of your data.
If you're interested in ordering a ReadyNet Powerline Bridge, you can find them in our online store. If you have any questions for us, please ask in the comments below!
*rg