Have you ever had a message appear on your screen that says "a subscription is required to view this program," but you know it's a channel you should receive? If you have, it probably looked something like this: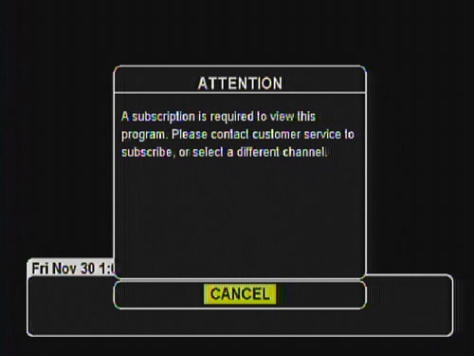 Sometimes this happens because it's a channel you've just had added to your services, or because there's been a power outage, or perhaps your receiver has been off for awhile and has lost authorisation. If this is something you're experiencing, as long as the light on the front of your receiver is not red, there are two easy steps you can take to try and restore the channel without having to call in!
1)      In a lot of cases, your receiver just needs to be reminded of what channels it should be providing you with. To do this, you can send a "refresh" to your receiver either by logging in to your Self Serve account, or by calling our automated phone line (1.888.554.7827).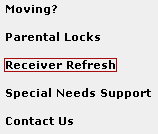 If you use Self Serve, after you have logged in, look along the left-hand side of the page for "Receiver Refresh." This will be near the bottom of the list. Click this, and you will be taken to a page explaining the process. Click "submit" to send the refresh to all of your receivers. It may take up to 15 minutes to process.
If you use our automated phone line, after selecting your preferred language, press 1 to select that you have a current Shaw Direct account, 3 to activate a new receiver or refresh existing services, and then 2 to refresh your services. Now press either 1 if you are calling from the main phone number registered to your account, or 2 if you're calling from any other number (you'll then be prompted to enter your main phone number). Once you've completed this, a refresh will be sent to all receivers on your account. Again, this may take up to 15 minutes to process.
2)      If you're still missing your channel, try an AC reset on your receiver. To perform an AC reset, unplug the receiver from its power source, and then unscrew the satellite connection. Let it sit for about a minute, screw the satellite connection back in, and then plug it back into the power. It should manually turn back on after this, but if it doesn't after about a minute, you may need to manually turn it back on. You will probably be missing your guide information at this point, but if you leave the receiver on one channel and don't look through the guide for 10 to 15 minutes, this information will reload.
The above process will resolve most minor issues with your receiver(s), but if you're still having troubles give us a shout and we'll help get everything sorted out!
You can also learn how to hide unsubscribed channels from the guide, here:
*rg