Have you ever wanted to change your programming but didn't have the time to wait on the phone? Have you been in a pinch to pay your bill and wanted to get it done as quickly as possible? Have you had a technical issue that you wanted to look more in-depth into on your own? If you answered yes to any of these questions, then don't worry; our online Self Serve option gives you the ability to do all this and so much more! We'll have you covered so that you can both understand what the My Account has to offer, and feel comfortable using it.
To access My Account, visit our website. You'll notice different options in a row:

As indicated you'll need to click on "My account" to bring you to the log in page. When there, you'll notice two different sections:
OR
We'll start by showing you how to sign up for the first time. If this is the case you'll need to click on "Register your account." In doing so, it will take you to a page asking you to fill out a few pieces of information.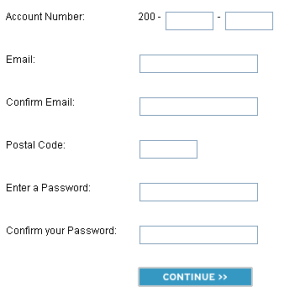 Once you enter in all the required information, press "continue."  There will be a confirmation email sent to the address you typed in previously. The email will not hold a temporary password or any information relevant to signing in for the first time; it is just to let you know that the submission has gone through successfully. After entering the information, return back to the main log-in page for the Self Serve. From there the only information required to log-in will be your account number and password that you selected.
All right! Now you will be logged in and are able to experience the world of Self Serve and all it has to offer! When you first log-in, you're going to see a screen that looks like the one below: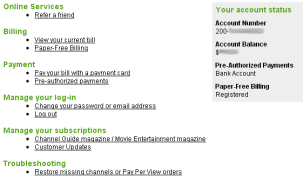 Most things are pretty self-explanatory. On the right-hand side, there's a quick reference box that will update you on some key information pertaining to your account with us. It will show your account number, the current account balance, and whether you're signed up for Pre-Authorized Payments or Paper-Free Billing. To the left of this, you can manage your programming, make payments, adjust your Self Serve account by updating email address or password, and much more. One of our favourites is the "restore missing channels or Pay Per View orders" link; if your receiver loses authorisation, you can use this to send a "refresh" to all receivers active on your account!
On the far left, you'll notice quick links to choose from so you can easily navigate from any section:

The first option is "[Log out]," which is what you'll want to select when you're done with everything.
The "Refer-a-Friend" link will take you to a page with information about our program of the same name.
"View your bill" will allow you to view the past six months of your Shaw Direct bills in either PDF format, or as a simple webpage.
"Paper-Free billing" will take you to a page where you can add, remove, or change your email address for receiving an emailed billing notification each month.
"Payment Card payment" allows you to make a one-time payment to your account with a credit card or Visa debit.
The link for "Pre-authorized payments" will let you add, remove, or update your pre-authorized payment information for your monthly billing.
"Change password" allows you to update your My Account password, as well as update the email address associated with the online account.
Lastly, you will see Receiver Refresh, which is the same as the "restore missing channels or Pay Per View orders" link mentioned previously.
Now that you're aware of all that Shaw Direct's My Account feature has to offer, we encourage you to explore it and fully enjoy our services that are now at your fingertips! Check out and try My Account today, and as always, if you have any questions, don't hesitate to leave us a message below!
*rg