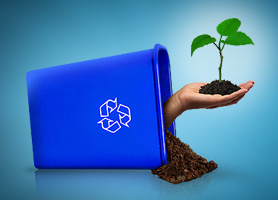 You try to do your part to help protect the environment; you recycle, shop locally, walk or bike to nearby destinations. So, why not sign up for Paper-Free Billing and Pre-Authorised Payments through Shaw Direct?
With Paper-Free Billing, you don't have to worry about wasting paper and ink from the bill and envelope, or about the energy used to print and transport the bill to you. Instead, you receive an emailed notification each month to let you know that your bill is ready. Just click the link in the email, and you can login to your Self Serve account to view your most recent bill, and up to five of your past bills. Plus, you don't need to worry about losing your bill, or not receiving it on time due to a delay with your mail!
If you sign up for Pre-Authorised Payments, say goodbye to  driving to the bank each month, or writing a cheque and mailing the payment to us! You can save time, money, and natural resources. And, your payment will be withdrawn on the same day every month, so you never have to wonder when you'll see the money come out of your account.
As an added bonus, if you sign up for both Paper-Free Billing and Pre-Authorised payments at the same time, we'll give you a small present as a token of our appreciation: you can choose from either two free Pay Per View or Shaw Direct On Demand Movies (to a maximum cost of $6.99 – cannot be applied towards events or adult titles), OR a one-time $5.00 discount on your next bill! If you would like to sign up, log in to your Self Serve account, or send us a note; we can be reached in the comments below, on Facebook, Twitter, or through email.
Shaw Direct is proud to do our part to be environmentally-conscious, too. Besides offering options like Paper-Free Billing and Pre-Authorised Payments, our head office uses electricity from a green energy provider, and are in a BOMA BESt certified building. We're also happy to offer our HDPVR 630 with large cooling vents to allow for efficient heat dispersal, and a variable speed fan that only runs as fast and as long as needed to maintain an appropriate operating temperature to help reduce the energy required to watch and record your favourite shows.
Have any questions for us? As always, don't hesitate to leave a comment for us!
*rg