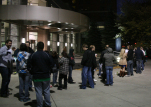 With a line that wrapped around the block, a man in a green lycra suit, and countless hopefuls bundled together in sweaters and blankets in the autumn chill, the Calgary open casting call for Big Brother Canada was a once-in-a-lifetime experience.
Hopefuls were already arriving at 6 a.m., although the line did not officially start until 7 a.m.; by that time, there were almost 400 waiting in the darkness outside of the Sheraton Eau Claire.
The excitement was palpable at 8:30 a.m. when the first 120 were let into the building to make their way up to the holding room. Pat, the man who wore the green lycra suit was enjoying the warmth there while waiting for his chance to audition.
"I wore it to make everyone laugh and wanted everyone to find me more interesting," he said.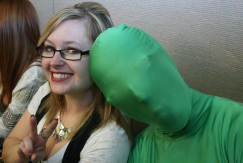 Pat was discussing possible strategies with his fellow hopefuls when we found him.
"I'll play it nice and cool, and all of a sudden, half-way through, boom! I'll start knocking around everybody."
Melissa was waiting with him, and mentioned that she would take a more organic approach if she made it to the final 14. "I think I would be good because I am me… I'm out-there, I'm crazy and fun, and I'm going to rock the Big Brother house."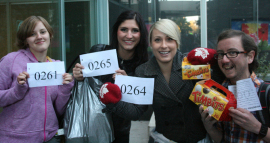 Back outside, another group was being let in. The line stopped just before Sarah and Chris could make it through the doors. "It's like coming in second playing 'Hungry, Hungry Hippos,'" Chris said of the disappointment of having to wait longer.
Waiting was the theme of the day for Sarah, however. She and a friend left Edmonton for Calgary at 3 a.m., and had been waiting outside the hotel since about 6 a.m. As soon as she got close to the building, she'd tried to huddle close to the doors for any warmth that might escape.
Topics of conversation were as varied as the hopefuls in the line, but generally seemed to centre around Big Brother. One of the topics overheard was about who everyone's Big Brother idol was.
For Dion, who wanted to try-out because it was a "chance to shine," that idol was Dan.
"He pulled off the biggest moves in Big Brother history," Dion said.
Chelsea, on the other hand, was rooting for Frank in the last house.
"I really liked Frank this last time because he was honest, and that's how I'd want to play my game. He's the one I wanted to win. I was devastated when he got back-stabbed."
Dreaming about what could be done with the prize money – a cool $100,000 – was another hot topic.
For Dion, it was a chance to take care of his family. Chelsea thought of it as a chance to help those in need.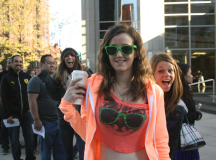 "I actually visited an orphanage [in Honduras] that's run by an American couple. In Honduras, if you're a baby born out of unfortunate circumstances, you're not allowed to be adopted by the state, so they house unadoptable children. They have to do it all on their own, so I would go and donate some money to them."
One thing that everyone did seem to agree on was that getting cast for Big Brother Canada would be a life-changing experience.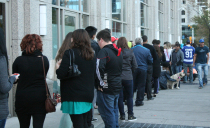 By the end of the day, 885 hopefuls auditioned for the Calgary casting call. Big Brother Canada is scheduled to start in winter 2013, and will airing exclusively on Slice (562 Classic, 278 Advanced).
There are three more casting calls – Halifax and Montreal on October 7, and Toronto on October 14. If you think you've got what it takes to be part of the first season of Big Brother Canada, make sure you go! And, as an extra bonus, we're running a contest to give away VIP passes to get to the front of the line in any of those three cities.
Question of the week:
Who is your favourite Big Brother competitor, and why?
*rg