For those who love the convenience of TV-on-the-go, we're proud to announce the launch of our new Shaw Go Movie Central app! This provides Shaw Direct customers who subscribe to Movie Central with the latest HBO and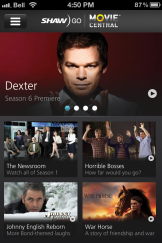 Movie Central content to enjoy anyplace, anytime.
The app is currently available for Apple iOS devices, so you can get it for your iPhone 3, 4, or 5, your iPad 2 or the new iPad, and on any iPod Touch device. You can download it for free from Apple here. We know a lot of you love Android, so rest assured that we are looking at developing the app for other devices in the future.
To login, all you need is a ShawDirect.ca Self Serve account, and subscription to our Movies West package. If you are interested in subscribing to it, let us know and we can help you out.
The app features layered navigation, which is perfect for easily swiping though all of your viewing choices with the touch of a finger. It also provides smart search (it predicts what you might be looking for to speed things up), video bookmarking (you can stop what you're watching and start it up in the same spot later), and intelligent streaming (you get the best possible video quality based on your connection speed). You can check out a detailed description of all the features and how to use the app here.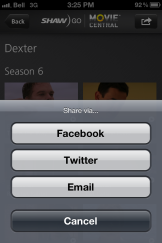 There are two other cool features that we really liked: If you use Apple TV, AirPlay lets you stream Movie Central content from the app directly to your TV, and you can let your friends and followers know what you're watching by sharing to Facebook and Twitter!
At this point, we've got more than 670 titles available, which works out to more than 600 hours of content. This includes great shows like Game of Thrones, True Blood, and Boardwalk Empire, and popular movies like The Iron Lady, J. Edgar, and The Artist.
Whether you're travelling within Canada, waiting for a bus, or on your break at work, you can get caught up on your favourite shows. And this is only the first of many apps by Shaw Go to come; stay tuned for more!
*rg