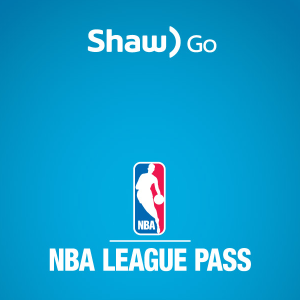 Are you a basketball fanatic? Are you not always able to watch your favourite teams play because you're commuting, away from home, or on the road? If this is you, we've got great news: We are excited to announce the launch of NBA League Pass on Shaw Go, available for all Shaw Direct customers who subscribe to NBA League Pass! This great app is a new way to experience your NBA subscription on your iOS (Apple) or Android device for customers who subscribe to NBA League Pass. Combining a live stream of games, along with a portal for scores and game schedules, the NBA League Pass app on Shaw Go promises the most interactive and complete NBA viewing experience.
If you don't already have NBA League Pass as part of your programming package, all you need is a subscription to either HD Sports or HD Combo. Once you've taken care of this, you can contact us by calling in, emailing, or messaging us on Twitter or Facebook to get your redemption code for the app.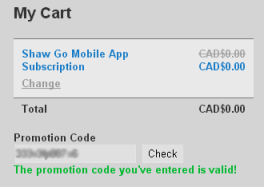 After getting a redemption code from us, visit the NBA League Pass page to register for an account so you can view content on the app. There will be a form to fill out with a username, password, and your personal details on the left, and then an area to enter the redemption code that you got from us on the right. Enter this, click "Check," and then when you're done the rest of the form, click "Submit."
Now you can download the app to your favourite mobile devices. If you use Android, you can get the app here. If you use Apple, it can be downloaded here. The app will work on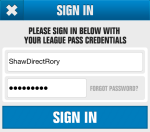 version 2.2 of Android and up, and on the iPhone 3GS and up, any iPad, or third generation iPod Touch and up with iOS 5.0 and later.
Once you launch the app, you'll be taken to a login page where you can enter the account information that you just set up on the NBA League Pass page.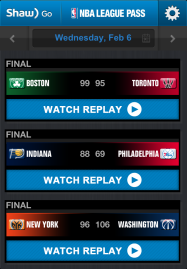 You can scroll through the schedule day-by-day, or click on the date at the top of the screen to select a specific date from the popup calendar. For games that have already aired, you'll see the option to watch the game replay, while for games that are currently airing, you'll see the option to view the live game.
Bear in mind that, as with many sports, blackout
restrictions can apply. If you try to watch a game that was not available in your area, you will see an error message appear on your screen.
When you select a game to watch, you can skip ahead (only if the game has already aired), skip back 30 seconds, pause the game, adjust the volume, or enter full screen mode. Games are available to view for 48 hours, after which point the video will be removed.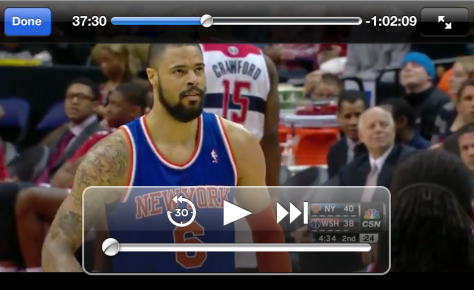 Pressing the "widget" symbol in the top right-side of the screen will take you to the settings menu. Here you can choose whether or not the scores display in the schedule menu for past and live games, view the FAQ, terms of service and privacy policy, and sign in or out.
Content will be available and updated on a daily basis until the end of the 2012-2013 season.  This will include every regular season and all-star NBA game. Don't miss out on all of the action!
*rg