Shaw Direct's third satellite – Anik G1 – went live on May 29, 2013. This has enabled us to add tons of new and exciting channels in both standard and high definition! We're also very proud to say that we now carry the most HD channels in Canada: over 210.
So, what exactly do you need to access the great new Anik G1 channels? You'll need an xKu LNBF installed on your dish, and a 6XX-series receiver (the Essential HDDSR 600, Advanced HDDSR 605, or Advanced HDPVR 630).
In order to help you figure out if you're G1-ready, we've added a special channel so you can find out exactly what you need. To get started, turn to channel 988; once you're here, press INFO and you'll see one of four messages: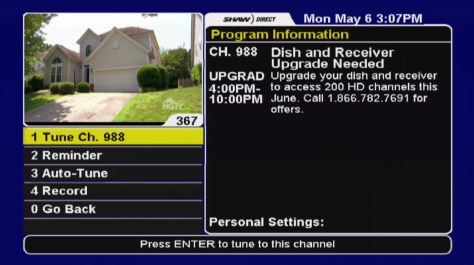 This means that you're using one of our older receivers, and have an older style LNBF. If this is the case, you can contact us to arrange an LNBF upgrade and to look into getting a new receiver (or more) so you'll be able to enjoy our new channels.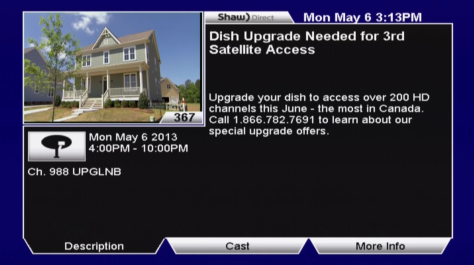 If you see this message, then you've got the right receivers, but will need a new LNBF. Contact us to arrange an upgrade for your LNBF.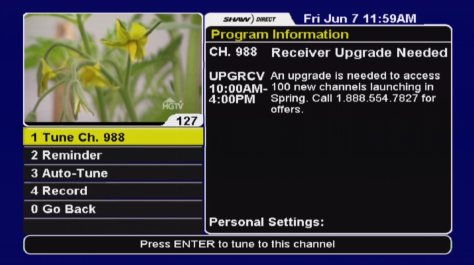 This message means that you've got the correct LNBF, but will need a different receiver to access the new channels. Contact us to find out about getting a new receiver.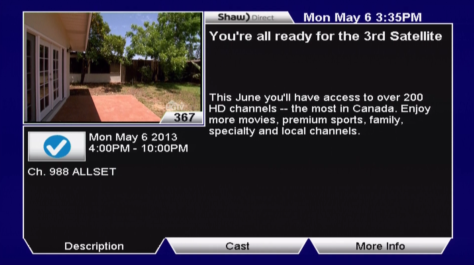 If this is the message you're getting, then you're already set to start watching the new channels right now!
If you have more than one receiver in your home, we recommend checking channel 988 on all of them to see what the status is for each one.
In the event that you do need an upgrade to your LNBF, we can either have an installer go out to put it in for you, or if you're in an area that doesn't have a local installer, we can have a new LNBF shipped out to you.
*rg